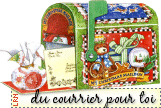 e anche la seconda tappa dell'exange "Four seasons" è arrivata...!!!

Giovedì ho trovato una bustona che la mia compagna "Goldie"
mi ha spedito dal lontano Arkansas.....
Naturalmente conteneva un lavoretto natalizio...


and also the second stage dell' exange " Four seasons" it has arrived…!
Thursday I have found a great envelope that my friend " Goldie"
it has sent to me from the Arkansas .....
Naturally it contained a beautiful embroidery of Christmas...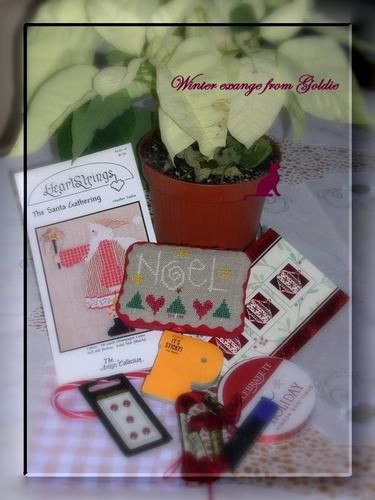 Una bellissima scatoletta dipinta con il tradizionale colore "rosso" natalizio
... sul coperchio ha applicato il suo ricamo di natale ...


The beautifulst box painted with the traditional christmas color "red"
… on the cover has applied its embroidery of "Christmas"…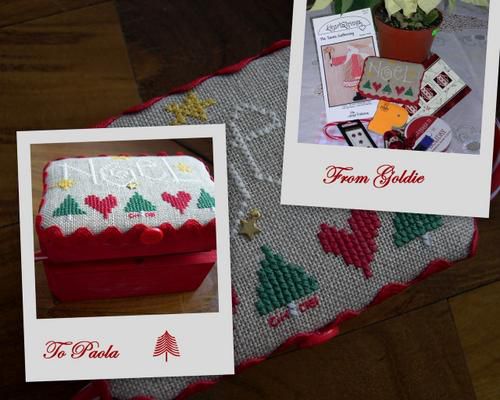 La scatola conteneva tantissimi regalini....
dei bottoncini rigorosamente rossi,
un blocchetto di biglietti con la forma della mia iniziale,
delle matassine sfumate nelle tonalita rosse,
un portaaghi,
una bobina con del nastrino di organza rosso,
una biro a forma di candy cane,
un pezzetto di lino graziano
e infine uno schema di babbo natale....


The box contained it many gifts….
of the rigorously red button,
a ticket notebook with the form of mine begins them,
of the floss vanished in the red tonalities,
one needlecase,
the red ribbon of organza,
a biro to form of candycane
of graziano linen
and at last one patter of santas ….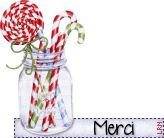 Grazie Goldie... spero che tu possa ricevere il mio prima del 25 dicembre!!!
Ora mettiamoci al lavoro per il prossimo scambio
che sarà dedicato alla "Primavera"


Goldie thanks… I hope that you can receive mine before 25 December!
Excuse my very bad English